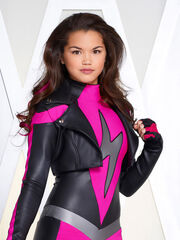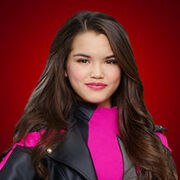 Arielle is about 14 she is full of fear. She is powerful but refused to fight. She is bionic .
Background
Edit
Raised by a widow her mom who is now the queen of her kingdom. Her mom was wise but now has turned agaist everyone since she was a queen. Arielle childhood was difficult. But Arielle survived. Arielle was so powerful in her planet she had to be a secret. Now that everyone knows about her they are trying to hunt her down. She now works for a villain name the Annihilator. She was contaiminated by this serum that makes her evil and against the dieing planet and with the Annihilator side.She has exactly 17 powers.
Abilities
Edit
Healing
Flight
Creating Lasers
Speed
Reversing Time
Freezing Time
Invisibility
Strength
Turning people into things.
Super Jumps
Teleport
Making Fire
Molecklar Kenisis
Telekiniss
Creating Objects
Changing molecular structure
Gymnastics
Quick Reveiw
Edit
She is 110 pds
Ad blocker interference detected!
Wikia is a free-to-use site that makes money from advertising. We have a modified experience for viewers using ad blockers

Wikia is not accessible if you've made further modifications. Remove the custom ad blocker rule(s) and the page will load as expected.