Zephielden is the oldest Mystic Prince.
He like Zarkirian where involved in Jade becoming a Mystic but unlike
Zarkirian who had a hard time admitting that it was his fault Zephielden easily new it was his fault & did not leave her side until she was about to wake up from her slumber.
When the King of Mystic decided to task Masron with teaching Jade Zephielden was mad because it was his fault she is a Mystic & wanted to see her grow stronger with his own eyes.The King after Masron & Jade left asked Zephielden & Zarkirian to keep there eyes on the young Princess just in case but from afar & that they need to wake up Grune who was also tasked to keep her eyes on Jade.
Zephielden warned Grune that if anything happened to Jade he will hurt not only her but he will destroy Masron. a few days before Jade had to leave on her first mission with Masron & Grune she was by herself in a field of white roses just laying there when Zephielden finally approached her & told her his name. He asked her why come here to this field alone Jade replied it's peaceful & I don't need to think about much of anything it keeps me relaxed. He was shocked & said that he also likes this area & said if there is anything at all that she wants here he will get it for her.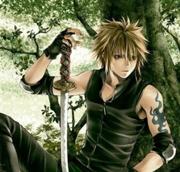 Abilities
Edit
Fencer
Charmer
Using his Katana he can cut through almost anything with ease
Loner / Guardian